Air force helps rescue sailors in Pacific 12:40PM Monday May 21, 2007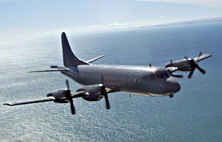 A Royal New Zealand Air Force Orion has helped in the rescue of a fishing boat in trouble north of Samoa.

The Orion joined the search at 5.30pm last night after the engine of fishing vessel Sweet Dolly stopped and the boat's three-man crew issued a distress signal.

Orion captain Flight Lieutenant Aaron Benton and his crew quickly pinpointed the boat's location, 53 nautical miles north of Samoa, on radar.

Nearby fishing boats and the Tongan patrol vessel Pangai were then contacted to offer assistance.

Pangai approached the boat to find the crew safe, an air force spokeswoman said

She said: "Repairs and replacement batteries were provided and the fishing boat was able to leave under its own power."

The Orion returned to Whenuapai Air Force Base, Auckland, at 3.20am this morning.