Orion leads hunt for kids
4:00AM Tuesday Dec 30, 2008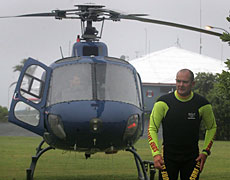 An Air Force Orion late last night took over the search for two adults and three children aged 12, 13 and 14 missing on a launch in high swells, rain and winds off the Bay of Plenty coast.
The bad weather hampered earlier search efforts for the group, which police said included a father, son and uncle and two more unidentified family members.
The sea search was called off about 10pm, shortly before the Orion arrived from Whenuapai.
But rescue crews were standing by in case the vessel was spotted.
Rescue Co-ordination Centre spokesman Ross Henderson said the Orion crew would use radar and other surveillance gear to search through cloud covering the search area.
Earlier, Tauranga Coastguard marine controller Tom Scott said searchers were using "maximum resources" to find the 5.5m fibreglass launch.
The family group set off in their red and white craft from the Kaituna boat ramp, near Maketu Estuary, about 8.30am yesterday to dive for mussels in an area known as "The Plate" about 9km from Maketu.
Maketu is 29km south-east of Mt Maunganui.
Sergeant Lester Polglase said that late yesterday morning, rain came in and visibility was cut to virtually nil.
"So unless they have a compass and navigation skills they are just driving around in circles," he said.

The skipper of the boat texted his wife at 1.23pm saying they were lost.
She contacted Search and Rescue, but nothing has been heard from the group since, although their boat has a marine radio.
Mr Henderson said that if the Orion's overnight search was unsuccessful, the Rescue Co-ordination Centre would reassess the situation this morning.
Earlier, four vessels were at sea hunting for the launch.
A helicopter made a brief sweep over the area, but low cloud and poor visibility forced it back to land.
A small radar-equipped fixed-wing aircraft from Taupo joined the search, but also had to return to land.
Police said it was believed the missing craft was carrying enough life jackets for everyone on board.
Coastguard incident controller Brian Palmer said conditions for searchers during the day had been impossible, with visibility cut to less than 800m, 55km/h winds and 5m swells at six-second intervals.
George Johnston, who has made sea rescues from Thornton, north of Whakatane, was out fishing yesterday, and said visibility was down to 1km.
"I could not see land, and if I was not a local I wouldn't have found the bar," he said.
A small vessel would be hard to find in such conditions.
The wind direction had changed from the south to the south-east, suggesting a drifting vessel would be blown 20 to 30 kilometres from shore by nightfall, he said.
Experienced diver Ian Foden - who survived a diving incident off Maketu on Christmas Eve by swimming 5km and six hours to safety - said he would have needed a "very good reason" to take a boat out in yesterday's rough conditions.
"It was quiet in the morning, when I imagine they headed out, but I wouldn't be taking my small boat out this afternoon."
He felt the group would be safe if they were nestled in by Motiti Island, near the area to which they were going.
Motiti farmer Vernon Wills, who runs his supply barge out of Maketu, said the easterly wind of 25 knots would blow a drifting vessel west of the island, which was the sheltered side last night.

Last night, the Coastguard also had to deal with a callout from a fishing boat which was taking on water off Waihi Beach.
Coastguard vessels were sent from Whakatane and Whitianga, and the boat, which had five people on board, was towed to safety.
RESCUE EFFORT
* Two adults and three children set off in 6m fibreglass launch from ramp near Maketu about 8.30am.
* Heading for a rocky outcrop 14km off the coast.
* About midday, skipper sends text to family member saying they are lost.
* Four Coastguard boats, plus several private craft, a helicopter and two fixed-wing aircraft sent to search but hampered by poor visibility.
* Boat has marine radio but makes no further contact.
* Radar-equipped Air Force Orion called in to help last night.