Sub-hunters say PM out of her depth over claims
Thursday March 15, 2001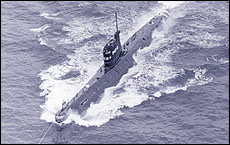 By SCOTT MacLEOD

New Zealand's submarine hunters have rubbished claims by the Prime Minister that their Orion aircraft have not managed to find a single target in 35 years.

Former Orion crew members have told the Herald that they frequently did find submarines - and have pointed to one well-documented discovery of a Soviet submarine in 1982.

Helen Clark made her comments last Wednesday to justify the Government's decision not to spend $568 million upgrading the planes' antiquated radar.

"We would be most unlikely to spend on the antisubmarine warfare capability," she said.

"We were being asked to spend more than half a billion dollars to spot vessels which aren't there and haven't been found to be there in the entire time we've been trying to spot them."

Yesterday, the former chief of the Whenuapai Orions, Wing Commander Gordon Ragg, a submarine-hunter from 1977 until his retirement in 1985, described Helen Clark's comments as "terribly rude, ignorant, insulting and incorrect."

He said there was a "well-known route" east of New Zealand that nuclear submarines used when going to their stations in the Indian Ocean.

When asked how often our Orions tracked the submarines, he said there was an occasional flurry of activity, then nothing for two or three years.

Our allies would tell us the submarines were coming, and the Orions would target "choke points" to find and track them. Then we would pass them on to other allies.

"There were all kinds of submarines at times, and we were quite effective at finding them," said Wing Commander Ragg.

"At times we found submarines that weren't meant to be there."

The most clear-cut example occurred on December 22, 1982, when the RNZAF photographed the Soviet Foxtrot-class submarine Regul and the research vessel Bashkiriya as they steamed just west of the Chatham Islands.

Orions had tracked the 2000-tonne diesel-engined Regul for two months before it entered New Zealand's 320km economic zone, spotting the submarine near Tahiti and north of the Cook Islands.

Officially, the Soviets were doing oceanographic research. But Squadron Leader Tony Medcalf said after his flight that there was little doubt their work had a military application.

They could be surveying hiding-places in deep trenches, and areas where warm and cold water combine to foil the sonar of submarine-killing ships.

The Herald asked Helen Clark's office why she claimed no submarines had been spotted for 35 years.

Her spokesmen pointed to extracts from the Maritime Patrol Review of February 28 and an External Assessment Bureau report called Submarines in the New Zealand Area.

The review paper said that neither our Navy nor our Air Force had a proven submarine sighting using sensors for "several" decades.

The bureau report said that that there had been occasional sightings of submarines around New Zealand, but none had been conclusively identified.

The Government last year scrapped the $568 million Project Sirius, which would have upgraded radar and sensors on our six Orions.

An RNZN website said there was evidence the French submarine Rubis supported the agents who bombed the Rainbow Warrior in the Waitemata Harbour in 1985. More nations than ever before were buying or building submarines.

The Navy Today magazine listed more than 500 submarines worldwide, including 200 with Asia/Pacific Navies.