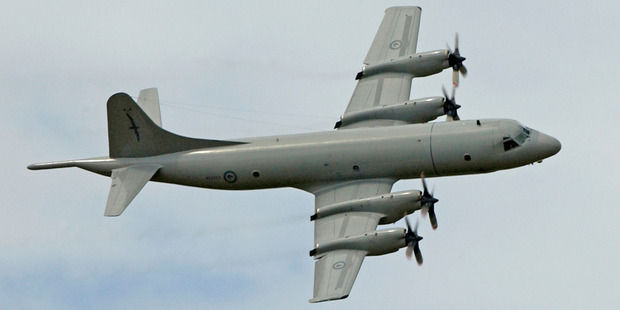 Photo / File
Missing plane: Upgraded Orions using top-spec radar and optics
4:15 AM Friday Mar 21, 2014
New Zealand's Air Force Orion crew flying from Perth last night to look for aircraft debris have use of some of the world's most advanced radars.
The 11-member crew left Perth at 6.40pm (NZ time) and were due over the search ground at 10.20pm, before spending up to two and a half hours "on station" looking for debris up to 24m long after a satellite spotted several objects.
Their P-3K2 Orion - one of five planes upgraded in a $352 million re-fit - is bristling with new radars and day-night optics able to pick out objects as small as a soccer ball from tens of kilometres away.
Air Vice-Marshal Kevin Short, a former Orion navigator who is now New Zealand's joint forces commander, told the Herald that finding small objects in large areas of sea from subantarctic waters to the tropics was the aircraft's stock-in-trade, so chances were high of an early sighting.
"In this particular case, there is a more definite object to look for, so that will lift their spirits," he said of the crew from Auckland's Whenuapai air base
"If you think of a metal object the size of a [soccer ball], like a fishing buoy with a small reflector on top, we should be able to pick them up at tens of kilometres [distance] but sea conditions make a big difference."
He understood the weather in the search area was good, although the sea was moderately high and visibility was limited by haze
He refused to speculate on whether the debris may be parts of the lost Malaysia Airlines flight MH370, noting that a 20m object spotted closer to Malaysia earlier in the search turned out to be the side of a shed.
Air Vice-Marshall Short understood a merchant ship had been diverted to the area and was due there at about 11pm [NZ time] last night.
Originally introduced to the Air Force in 1966 as submarine hunters with sonar-sounding capabilities, the Orions have received several upgrades and are used extensively for maritime patrols, for anything from hunting poachers of Patagonian toothfish in the Southern Ocean to disaster assessment after tropical cyclones.
The New Zealand craft would remain on rotation with four Australian Orions and the Poseidon, until the debris was found.
Although it was due over the search ground with daylight hours to spare, its new Wescam electro-optics were capable of operating at night as well, to identify objects once they had been picked up on radar.
An Australian C-130 Hercules may also be used once debris is found, to help to drop marker buoys.